DIVING DEEP INTO INDUSTRY TRENDS & CHALLENGES

American Locator magazine gets to the heart of news, debate, technology and processes focusing on damage prevention in the underground utility industry. With each issue of American Locator Magazine, we focus on relevant topics within key areas of the industry and strive to bring tips, breaking news and information to our readers from people working daily in the field. See highlights from our most recent issue or read through past issues for valuable ideas to implement on your own projects. Subscribe today!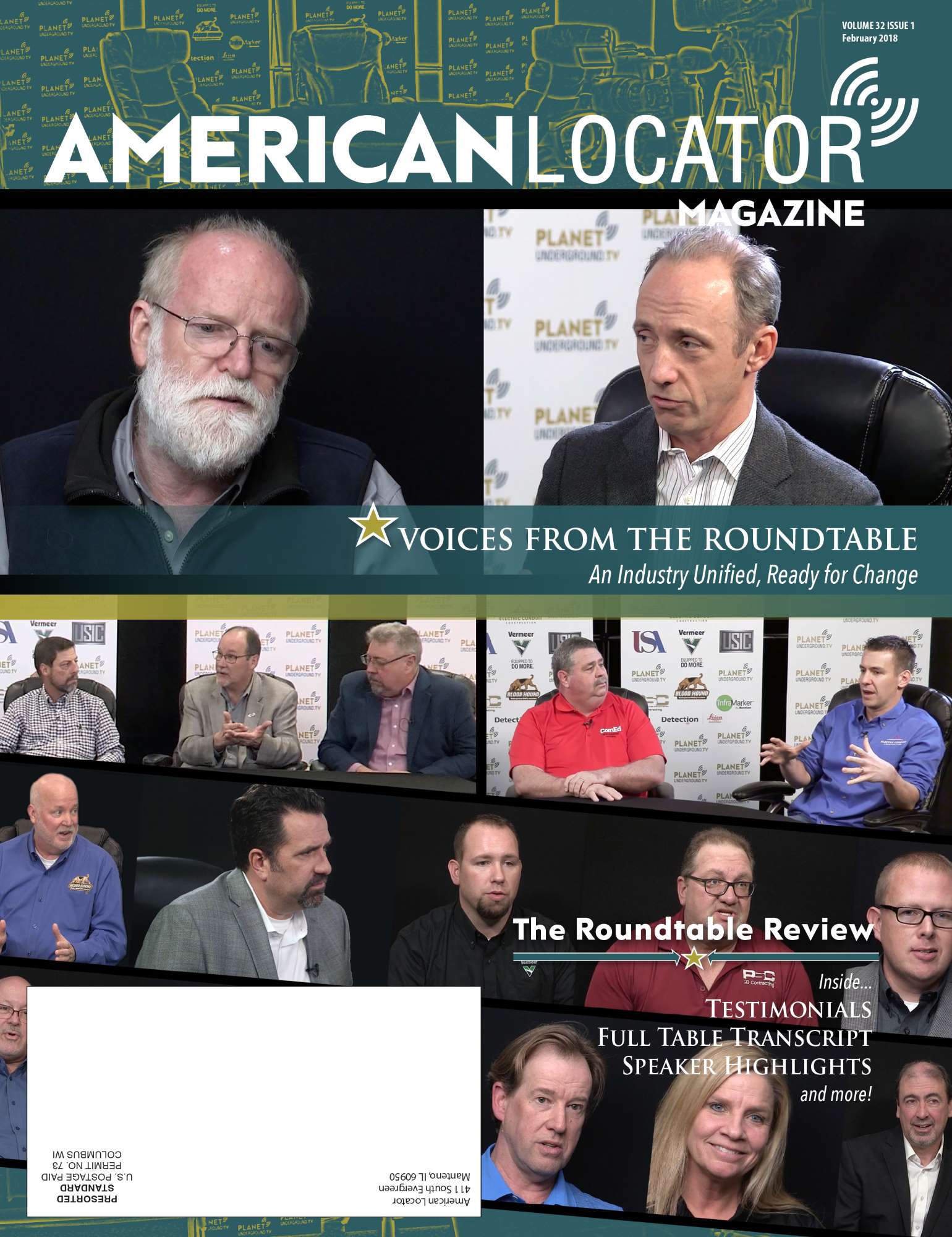 Volume 32-Issue 1, February 2018:
Roundtable Review – American Locator Magazine
In Volume 32-1, we present feedback and opinion, transcripts, and photos from 2 full days of filming and interviews at The Roundtable 2017 in Manteno, Illinois. The event welcomed over 100 industry professionals to discuss the future of safe excavation in frank, unscripted face-to-face conversation. Read also, an informative interview with Ben Wallace of USIC, and gain valuable insight into the world of a long time locator as he discusses ongoing and new industry challenges, and avenues for change.
Recently Featured Content
Subscribe to our YouTube channel and view videos related to stories from this and other great issues.
State of the Union
Planet Underground TV's Episode 8: State of the Union features a select group of interviews and table discussions from The Roundtable 2017 at Planet Underground. Listen to frank, outspoken commentary on the state of underground utility excavation safety today – and where it needs to go into the future. More than just a trade show, The Roundtable is a force for real change in the industry. Find out more in Vol.32 Issue 1 of American Locator. Subscribe today!
The American Locator
Planet Underground TV's Episode 7 features three veteran locators working in St. Paul, MN. Xcel Energy's Frank Mariano is one of only several hundred utility-employed locators in the U.S. that are assigned to protect buried infrastructure in urban cores. Jon Moulton and Joshua Richard of Q3 Contracting team up to demonstrate the return on investment that professional locators give utility contractors as they work in older, crowded and challenging below ground environments. Find out more in Vol.31 Issue 6 of American Locator. Subscribe today!
Promote your brand and help us continue to share industry knowledge with American Locator magazine. View our media kit.
See what some of our readers have to say about American Locator