THE ROUNDTABLE – LIVE…A PICNIC AT A JOBSITE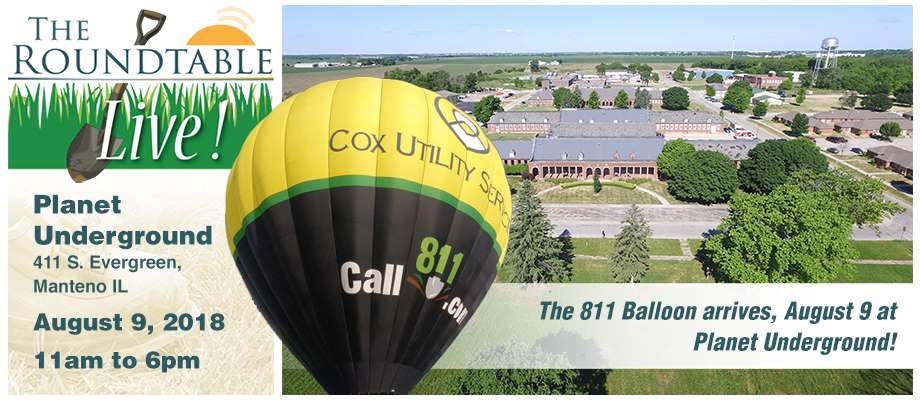 Join us for a National 811 Day Celebration, a great meal and conversation!
Registration has now begun for The Roundtable Live!
This "Picnic at a Jobsite" helps take up the conversation from The Roundtable in December and bring it outside where people can learn things in a hands-on environment. Attendees should not expect a trade show but a casual, educational and networking event where everyone–no matter what they do–is on equal footing. Any product or service that is used during the design, construction, protection or maintenance of underground utilities will be conducting educational demos and be part of our Planet Underground "jobsite" for a day. Participate and learn about excavation safety first hand, in action.
The Roundtable – Live! is held at the only site in the world dedicated to damage prevention!
| | |
| --- | --- |
| | REGISTER HERE: $45/meal ticket (Please enter names of all attendees in "Order Notes" during checkout) |
Accommodations: Country Inn & Suites, Manteno IL, 815-468-2600, Ask for Staking U Discounted Rate – $72/night
Location of Demos and Schedule:
Photos of planned excavations and demos (CLICK ON PHOTOS TO ENLARGE):
– Photos will be periodically updated with location of new demos added (and companies).
– Demos will take place from 11am to 4pm in order of a usual excavation project timeline.
– Hog roast will be served at 12:30 with sides and beverages. Food and drink will be available throughout the day.
Adult beverages served at 2pm.

View from SE corner of campus

View from East, main entrance

View from South

View from South, ECC path

View from NE corner

NE corner, meal tables
Locating
11-12pm
One-call locating, private locating, sonde locating, locating with GPR, post-811 verification and utility
depth profile, post-locate drone documentation, survey data collection.
Pre-excavation
12-12:30pm
Safety checklists, tailgate session, potholing, permanent marking
Excavation
12:30-4pm
All stages of locating, pre-excavation, horizontal directional drilling