| | |
| --- | --- |
| | Future Tech Trends 2018 |
Mapping, tracking, data storage, virtual reality, training advances/changes and product innovations…where will our industry be in the next 5-10 years? We're excited to bring you Volume 32-2, Future Tech Trends as we strive to provide education and information to make work crew and public safety our joint mission and number one priority. We see the excavator's voice and insight as key to significant change. Learn more from articles on the National Excavator Initiative, UTTO's Locate Simulator, ticket risk analytics, and Nashville's Google Fiber coordination efforts. View our photo essay on sewer cam tech with Pipe View America and our thoughts on the "Road to Replacing Paint and Flags." Read about the changing nature of excavator/locator training, integration of GIS/GPS technologies, how "The Cloud" will continue to impact safety planning, and more, as we present more featured discussions from The Roundtable 2017.
Find out how you can be part of The Roundtable here, including registration for December 2018, sponsorship and videos. Subscribe to American Locator today, and don't miss an exciting issue! Subscribe to our YouTube channel to watch our latest TV episodes on topics covered in American Locator.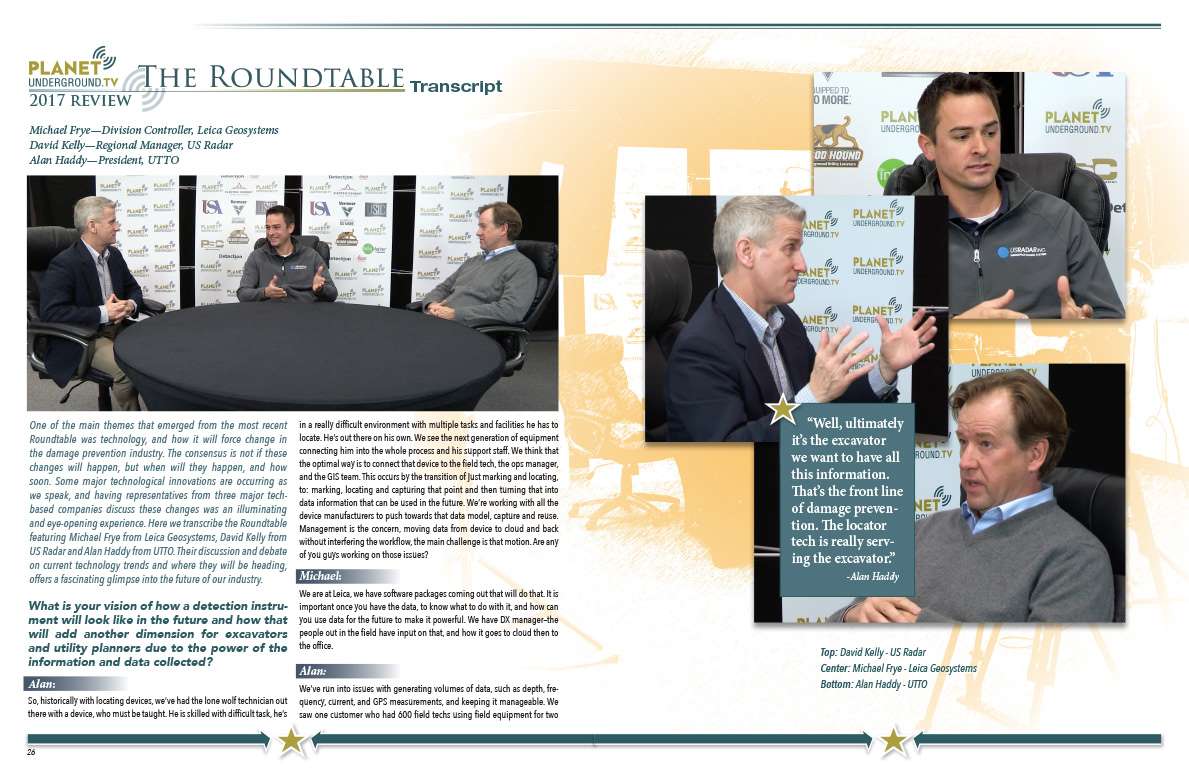 The New Data Workflow
In Volume 32-2, we present a discussion between Alan Haddy of UTTO, Michael Frye of Leica Geosystems, and David Kelly of US Radar on how new technology will reshape the tools, training,and workflow of the future for underground utility construction.
View this Featured Transcript.