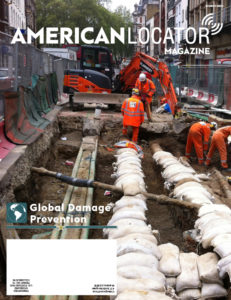 In Volume 31-3, we examine different approaches to the challenges we face and solutions we employ to reduce damages and injury around the world. Listening and learning from others in our industry may be a valuable path to take, bringing us all closer to our ultimate goal.
Our feature story covers PelicanCorp in Australia and an exclusive, in-depth interview with CEO Duane Rodgers as he brings us inside his global company and their strategies and future vision for one-call centers around the world. We learn more about one-call procedures, digging/locate regulation and mapping around the world with a comprehensive article from SeeScan. We also include a global humanitarian initiative from Schonstedt Instruments Co., speak with Jack Beach, Director R&D and Manufacturing of VAC Group in Australia and get the scoop on an exciting new development in vacuum excavation.
Keeping touch with local issues as well: We follow up on our Episode 4 feature on INTREN – Building a New Chicago as they put safety first in excavating in a web of complex big city infrastructure. We revisit the site of a devastating gas explosion in Canton, IL (first covered in Vol31-1) with this exclusive follow-up on their efforts to rebuild with pride in their local community. We interview public and private officials at the 811-Chicago Block Party and learn more about the city's efforts to build recognition for calling before you dig through city initiatives like the block party.

Subscribe today, and don't miss this exciting issue!