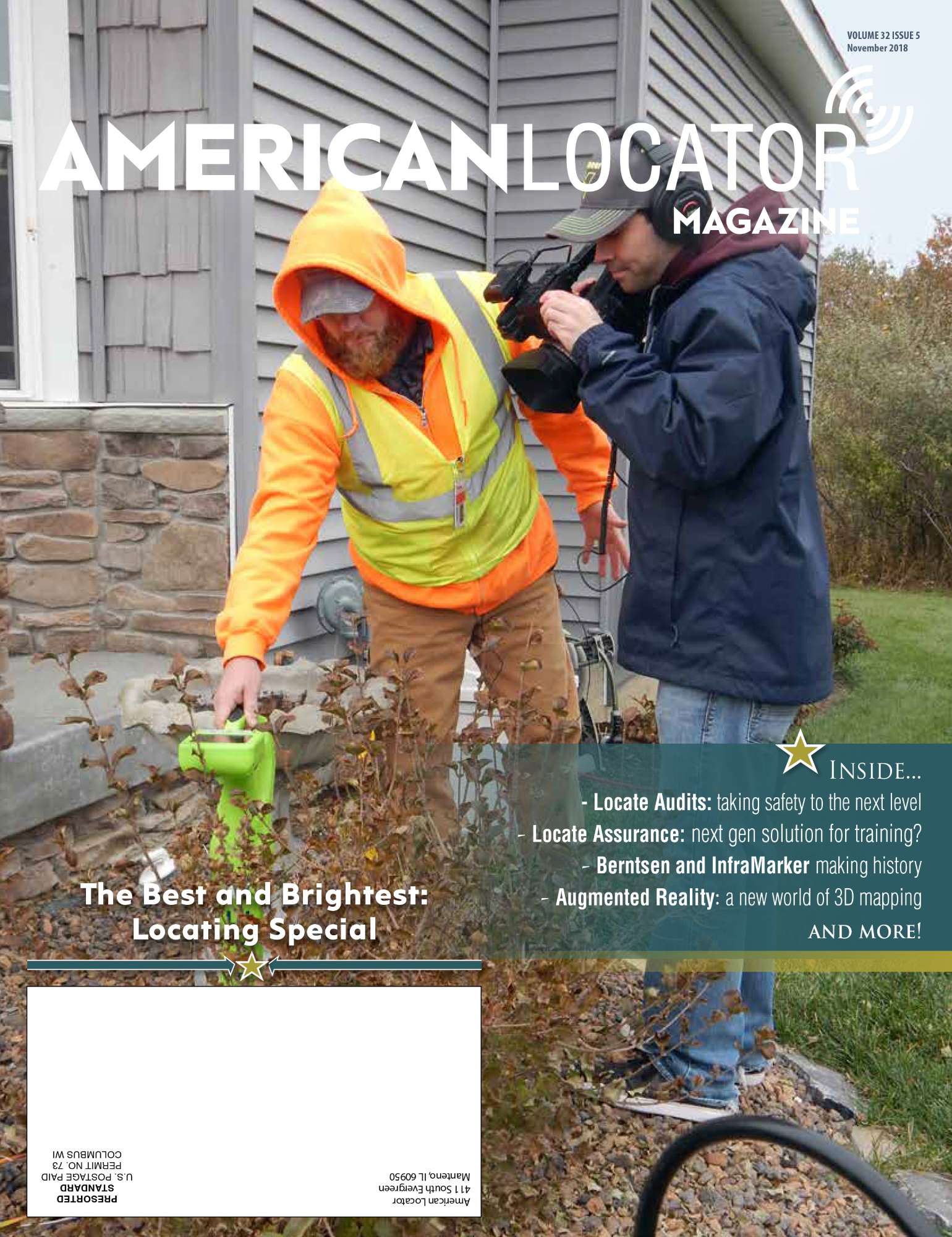 Best & Brightest: Locating Special Nov. 2018
In Volume 32-5, we'll cover news and challenges in damage prevention
with a special focus on emerging locating technologies and training resources you won't want to miss! Read below for a list of topics this November 2018.
Coming soon in Volume 32-5 as we strive to provide education and information to make work crew and public safety our joint mission and number one priority. We see the excavator's voice and insight as key to significant change and much more to be done after calling 811.
– Planet Underground TV on the road – This October, the Planet Underground team went on some interesting video shoots involving impactful new technologies and best practices in the damage prevention industry. View images and insights from our shoot with American Survey and Engineering doing a LIDAR scan of a 100-year-old bridge spanning the Des Plaines River in Joliet, IL. Next, we traveled to Mahomet, IL near Champaign to check out URG's new locate audit program put in place for Ameren Illinois.
– Locate Assurance – During URG and Ameren's joint demonstration of their new audit program, we had the opportunity to also document the use of UTTO's new software solution for onsite, real-time locator performance tracking. Is this the future trend for locate tech training?
– Roundtable transcripts from Mark Olsson, President of SeeScan – During The Roundtable 2017, we sat down to interview with Mark as he offers some bold predictions on the future of finding things.
– Berntsen's International Making History – Innovation powers Berntsen rise to global leadership in utility marking products. Learn more about where they began, and where the latest technology is headed as President Mike Klonsinski weighs in.
– An Interview with Richard Broome – The Managing Director of Line Search Before U Dig talks about the history and vision of the UK's "one-call" center, documenting success statistics and where there is still room to improve.
– A New Market for Augmented Reality? – vGIS is taking the lead on transitioning AR for effective damage prevention in underground utility construction. How can municipalities take the reigns and incorporate AR or similar technologies to best enhance their safety planning?
Find out how you can be part of The Roundtable, The Premier Networking Event in damage prevention, this December 2018.
Subscribe to our YouTube channel
and catch our latest TV episodes on topics covered in this and other issues.